Recent Articles About Victory Homes & Development, Inc.
---
A Coastal Farmhouse With A Heavy Dose Of Modern
By Emily Bailey & Photos by Jessie Preza
Cliff and Julie Moore went to interior designer Amy Johnson with a collection of pine and antique furniture. Though they wanted to incorporate those heirlooms into their new home, their style leaned more coastal—modern, even. "We started wondering, 'Is coastal farmhouse a thing?' So, I looked it up on Instagram and saw so many hashtags. I thought 'It's perfect for this area,'" says Johnson. "Every single room of the home is built with exposure to the Intracoastal. There's a huge porch that runs the entire length of it, which blends in with the surroundings and takes advantage of the gorgeous view."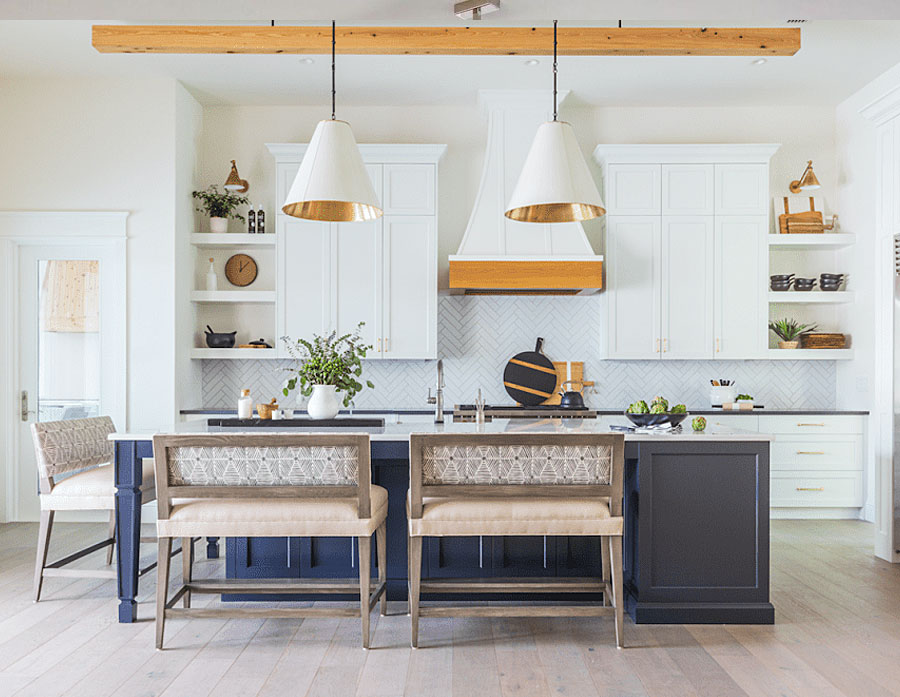 Embracing the fact that the home sits on the water, Johnson stuck to clean lines, incorporating pops of color and the homeowners' heirloom pieces when appropriate. The result: the designer's signature blend of beautiful, yet practical. Johnson didn't create the look of the home entirely on her own, working closely with Victor Yazbec of Victory Home and Development. "It was definitely a collaboration on the architecture and the design," says Johnson. "Plus, what was really fun was that the home owners were so open to new ideas."
→ Click Here to View Full Article
---
A Beautiful, Breezy, Beachy Kitchen
By Lisa Mowry
Is there any color combination more beloved than blue and white? For this ocean-side house in Ponte Vedra Beach, FL, the designer only had to look outdoors for inspiration. "The client loves the color blue, which we thought was a perfect play off the white sand and blue water backdrop," says Amy Johnson, owner of the aptly named Beach Chic Design. "But we wanted to give the kitchen a contemporary feeling to enhance the rest of the house, which is a little more traditional."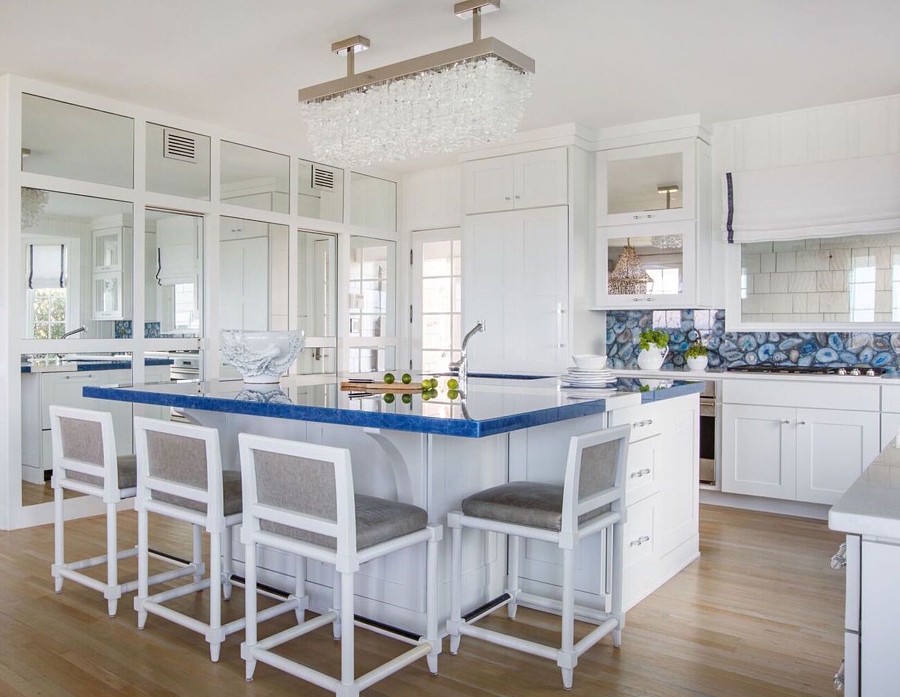 Amy and builder Victory Homes & Development, Inc. started from scratch on this remodel, taking the room down to the studs for better space-planning. They removed the wall between the sitting room and kitchen and added new doors and windows to optimize the back porch and ocean view.
→ Click Here to View Full Article
---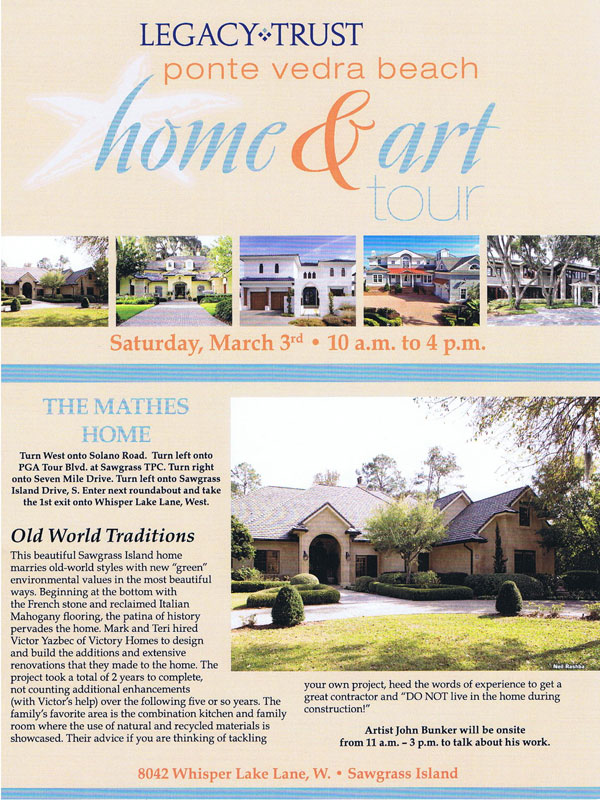 ---

Victory Homes & Development, Inc. has been voted
in the Top 5 of Custom Home Builders by the Jacksonville
Business Journal for the last 10 years.


Victory Homes & Development, Inc. was recently
featured in the Building Edge Magazine.
Click here to view the article.
---
Articles - Florida Times Union

Timeless Style - Mediterranean-Designed Homes Favored By Buyers
By DENNIS LARSON, Florida Times-Union

Mediterranean is hot.
"Some home buyers tell me it's the only style they want to see," said Michelle Floyd, sales associate at Ponte Vedra Club Realty.
For many homeowners, Mediterranean has the "wow" factor they seek. The details and expensive accoutrements found in these homes are favored by buyers who want to make a statement. Describing Mediterranean architecture is a lot like defining beauty. Certain elements are common but, ultimately, buyers are attracted to how the elements are combined into a complete structure. The style is so pervasive in Florida that any home with barrel-tiled roof, arches and stucco exterior is often categorized as Mediterranean. Others call the style Spanish Colonial, and in its less ornamented form, Old Mission. Most architects refer to the highly popular style as Mediterranean Revival. Or, as Jacksonville Architect Ricardo Quinones said, "A Mediterranean-inspired knock off."
If you ask 10 people to define Mediterranean, you'll get 10 answers, said custom builder Victor Yazbec. "It's a style that has evolved over the years, centuries actually," Yazbec continued. "It lends itself to comfortable living and features timeless craftsmanship." More than 30 percent of the homes Yazbec builds are Mediterranean.
Classic Mediterranean homes were optimized for humid, subtropical climates. Most were narrow, two-story structures with many small windows on both sides to provide good air circulation. Massive wood doors and shutters were common. Today, thanks to air-conditioning, architects usually retain the arches, tiles and columns indicative of Mediterranean, enlarge the windows to let in more light and extend roof overhangs. Doors are more likely to have leaded-glass inserts instead of heavy wood panels.
Homeowners often continue the Mediterranean flair with the use of imported mantels, granite or marble surfaces, wood ceilings, wrought-iron work and rounded corners. In Quinones' case, the award-winning home he designed for his family in San Jose reflects his enthusiasm for Mediterranean style. It features enlarged windows, a modern, airy, well-lit contemporary interior, white painted kickboards and window frames.
The degree of authenticity in a Mediterranean home determines its final cost. Yazbec, who is president of Victory Homes & Development, strives to build homes with "God-made" materials like limestone, marble, travertine and granite, along with clay roof tiles and other natural products. "A truly Mediterranean home could cost up to $800 a square foot," he said. "Even on the low end, construction costs can run $300 a square foot." Yazbec uses materials from quarries and other sources in the Old World and frequently employs European artisans to finish the custom homes he builds for customers in Ponte Vedra Beach.
According to the Wikipedia online encyclopedia, Mediterranean Revival architecture is "An eclectic design style that was first introduced in the U.S. around the turn of the 19th century, and came into prominence in the 1920s and 1930s." Design elements include low-pitched or flat roofs, red roof tiles (usually barrel tiles), minimal eaves, arches above doors and main windows, and natural or stucco siding.
Nearby, St. Augustine and Boca Raton are East Coast centers of Mediterranean style. Mediterranean style homes can be found throughout Jacksonville's historic neighborhoods and upscale communities. Avondale has many such homes because it was developed during the 1920s, the heyday of the Mediterranean Revival influence. Other homes can be found in nearby Riverside. In Avondale, Ted Miller, vice president of the Fred Miller Group, has listed a 1,664-square-foot, three-bedroom, two-bath home built in 1927 that features classic Mediterranean lines, including an arched portico and a recessed flat roof with barrel tiled edging. The interior sparkles with recent modern upgrades to the kitchen and family room. In St. Johns County, Realtors Michelle Floyd and Jayne Hoffman list several modern Mediterranean homes priced from $899,900 to more than $6 million. Most are the primary homes of owners who are moving to different homes in the same community.